I try to remain objective, I really do. I call it like I see it, and this being a blog, I do state opinions. But sometimes I just can't let the hypocrisy go.  Let's look at a few of the reasons why I think Melissa Gorga is a famewhore hypocrite.
Let's take a look at Teresa's covers. She was accused of having a seven cover deal but Carolione. I count 11 out there, but whatever. Teresa's stories are about her, her kids and her husband. She has stated many times that the tabloids were going to run the stories on her marriage, finances, family with or without her, so she opted to pose for the pictures and give some quotes. The quotes about her extended family and costars were DIRECT FROM THE SHOW, not from Teresa's mouth. Teresa never dedicated an entire cover to Melissa and bashing her. Which brings us to: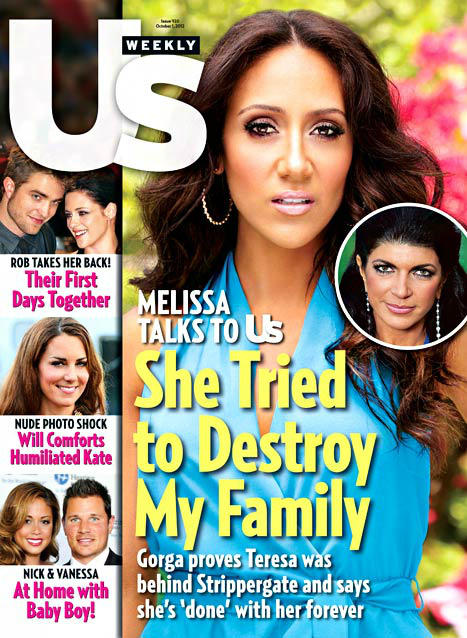 HOLD THE BEDAZZLED INITIAL PHONE! Melissa Gorga is about to experience Caroline Manzo's wrath. She posed for a magazine cover and bashed her family/costar in it. That is a mortal sin. Or is it only a sin when Teresa does it? Just because Melissa chooses to use US Weekly as her bitch outlet doesn't make it any more different than Teresa's magazine of choice being In Touch.
I get that Melissa needed to defend herself against the absolutely horrible and malicious revelation lies that infer she was a stripper in her pre-Gorga days. But did she need to take down her sister in law in the process? Couldn't she just have proved that Angelo was a liar? Nope…she had to publicly and purposefully call out her brother's sister…something Teresa has been condemned for all season.
And it should be noted that Melissa would never ever grace a magazine cover without mentioning/bashing  Teresa. Jesus himself knows it won't be for her skyrocketing music career. Acting abilities pending.
One could say (and most of the housewives and overprotective-annoying sisters) Melissa was merely defending herself when putting this story out, while Teresa's stories came out at a time when they were supposed to be patching things up. But let's not forget that Teresa's covers were never about Melissa. And Teresa only recently found out about the year long communication between Danielle Staub and Melissa before Melissa got on the show. Allegedly, Melissa was feeding information to Danielle for all of season 2 in an effort to "take Teresa down". Teresa only found out about it as season 3 was airing (and season 4 was being taped). This is a time when everyone was supposed to be patching things up…yet Teresa is seeing her family bash her from their very first episode ("We pay our bills" anyone??). Finding all of this out, whether it was a year before or not had to upset and anger Teresa, causing her to give a snippy quote here and there to a magazine (not a whole cover story though).
Trace back Melissa's cover to Teresa setting her up (which I do not believe happened). Trace Teresa setting her up to Melissa feeding Danielle info. What can we trace that back to? Why would Melissa do that? How on earth do you justify that? Oh, right. I remember.
TERESA GOT ON TV AND DID NOT TAKE MELISSA WITH HER.
Yup…that is reason enough to hate her and plot to take her down. If Melissa thinks Teresa tried to destroy her family she should take a look at the things she herself did to destroy Teresa. Starting with becoming a Gorga in the first place…