Well well, lookey what we have here. Melissa Gorga on a magazine cover. Why, you ask? Because of Teresa. The same cannot be said for Teresa's covers, which are always about her. Her family, her marriage, her kids, her companies. Melissa on the other hand is only worthy of a cover story when playing the victim and talking ABOUT Teresa. The ladies faulted Teresa for having a "7 cover deal" with In Touch (which is bogus considering there is at least 15 covers out there to date). But let's take a look at Melissa and her Us Weekly connection. Seems they always publish negative stories about Teresa…and coincidentally publish complimentary stories about Melissa. This girl certainly knows who and how to work it to get what she wants. Here's why:
Melissa retweeted some snarky tweets from Michelle Trachtenberg. If you don't know her, she is a former child star and currently recurs on Gossip Girl. Michelle was a guest on WWHL on Monday night, a day after the reunion. Here is Michelle's tweet to Melissa:
Well, within minutes, an US WEEKLY employee tweeted the following to Melissa:
The employee, Lara Cohen, then cc's ANOTHER Us Weekly employee, Ali Puliti on the post and the two of them frequently tweet Melissa. How do they know Melissa enough to know who she would get along with??
Melissa countered with this:
Ali also continually tweets Chrissy Teigen. Chrissy is a model, married to John Legend and friend of the Manzo's. She bashed Teresa on WWHL Sunday night (obviously) and praised Melissa. Here is Chrissy next to Caroline having a "sleepover" with the Manzos.
Chrissy was bashed by Teresa's fans for her biased and unfair appearance on WWHL the same night as the reunion.
Here are some of Melissa's Us Weekly appearance and not ONE is negative (as just about every single item about Teresa is).
There are also countless "Who wore it Best" appearances which are usually saved for the likes of a Kardashian or two.
Melissa also frequents the Us Weekly party scene:
And lastly, this week's newest smear campaign. I am sorry but Teresa's much maligned covers were NEVER about her costars. This is sad and disgusting. Look what fame can do to a family and friendships: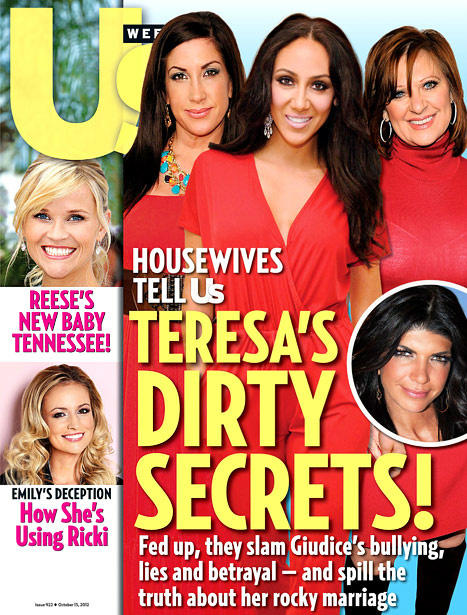 Even if Teresa does have "dirty secrets" or marital problems it is DISGUSTING for her former friends and sister in law to reveal them now. She has small children at home who can see this in the supermarket. This is just terrible. I think its pretty clear Us Magazine has no love lost for Teresa but plenty of love for Melissa. I didn't even post all of her photo ops. I got too disgusted…
Rumors swirled that Melissa had some sort of relationship (whether physical or just friendship) with former RHONJ producer Cat Rodriguez. Reports say Cat butchered this season of RHONJ with biased editing in an attempt to bring down Teresa and build up Melissa. Would it really be beneath her to befriend the staff at Us Weekly to secure good press? I think not…
P.S. Anyone else find it super funny that Kathy isn't on the latest Us Weekly cover above? Irrelevant much?
Members of the media and other bloggers, please credit/link to Real Housewives Lives when alluding to or reproducing this story as this is original content.